<-- Take me back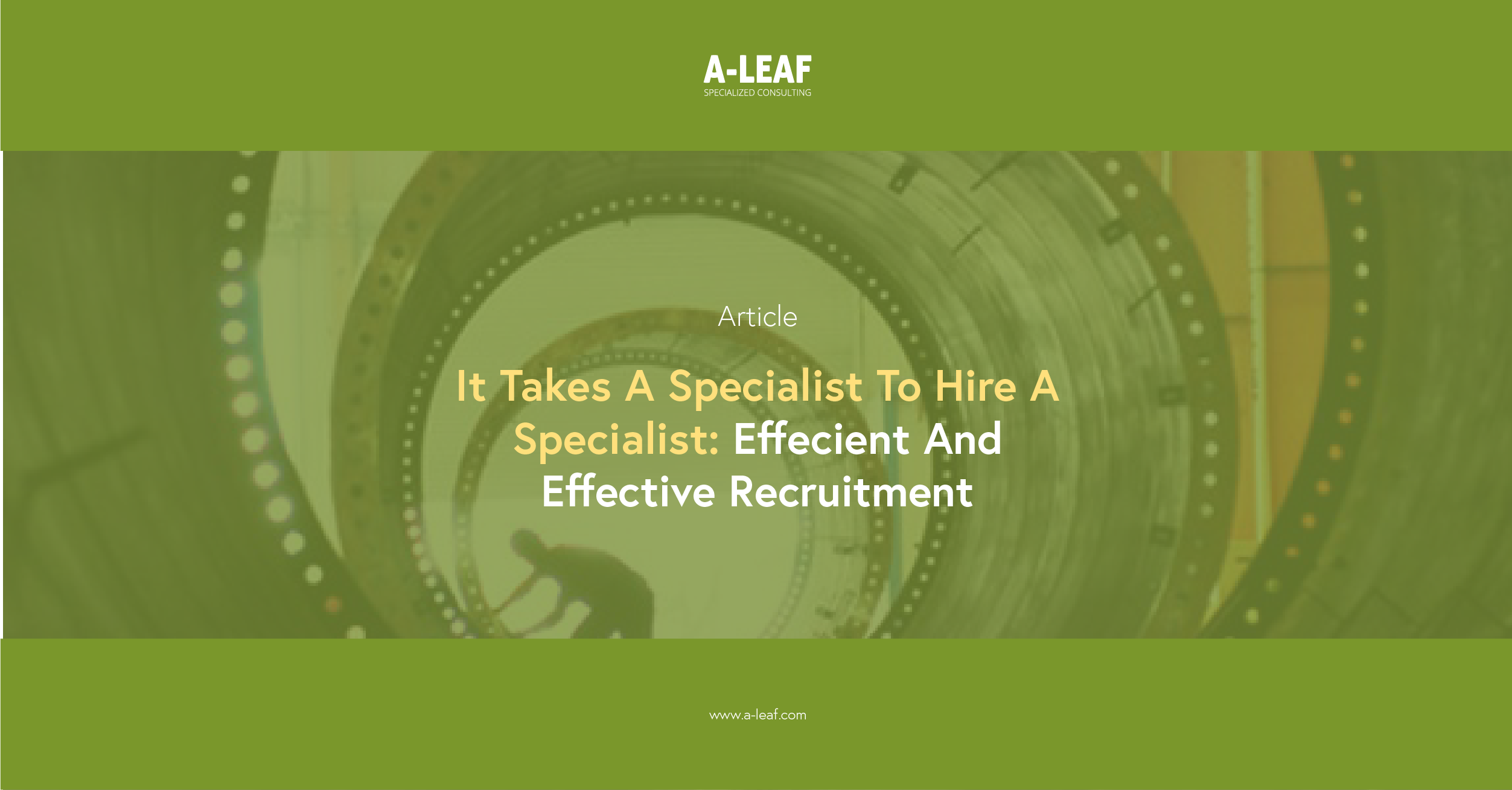 It takes a specialist to hire a specialist
A-LEAF believes in providing quick and efficient recruitment services while maintaining high quality.
We understand that time is of the essence in today's fast-paced business world, which is why we have developed a streamlined recruitment process that allows us to identify and screen candidates quickly and efficiently.
Our processes include:
In-depth understanding of the client's project requirements and challenges.
Customized recruitment strategy tailored to the client's specific needs.
Rigorous screening and vetting of candidates to ensure they meet our high standards.
We can maintain a high standard of candidate quality due to our technical expertise in, renewable energy projects, on- and offshore wind in particular, heavy steel, construction, and infrastructure projects. To ensure that only the most qualified and competent candidates are presented to our clients, we have developed a stringent screening and vetting procedure.
While we cannot guarantee that we will find the specialists for your project, we can guarantee that they will be a good fit if we do. Quality is our number one concern, and we will not compromise on this principle even when working under pressure.
Furthermore, our processes include:
Coordination and communication with the client throughout the recruitment process to ensure transparency and alignment.
Ongoing dialogue, performance monitoring and feedback to ensure project success and client satisfaction.
Client satisfaction
At A-LEAF, client satisfaction is a top priority. We understand that our clients' success depends on the quality of the specialists we provide, which is why we are committed to delivering the best possible recruitment services. Our in-depth analysis of project requirements, customized recruitment strategies, and rigorous screening and vetting process ensure that we identify and place the most qualified and competent candidates for each project.
Throughout the recruitment process, we collaborate closely with our clients to ensure transparency and alignment. We provide regular progress updates and welcome feedback to ensure we are meeting the client's expectations. We also maintain contact with the specialists we have placed to ensure that they are happy in their roles and continue to meet the needs of the client. If changes are required, we collaborate with the client and the specialist to find a solution that works for everyone.
Our goal is to develop long-term relationships with our clients, and we believe that regular communication is essential to accomplishing this. We take pride in our ability to provide exceptional recruitment services that are tailored to each client's specific requirements, and we are dedicated to delivering the best possible results for everyone involved.
Specialist satisfaction
At A-LEAF, we not only prioritize our clients' needs but also take great care of our employees. We understand the importance of creating a work environment where our employees feel valued and respected, and we strive to achieve this every day.
We take pride in our simple and transparent contract system, which ensures that our employees have a clear understanding of their roles, responsibilities, and compensation. We believe that a happy workforce is a productive workforce, and we work hard to make sure that our employees feel supported and appreciated.
Our employees are not just a number to us – they are our colleagues, and we make it a priority to provide them with opportunities for growth and development within our organization. We host events to encourage internal networking and team building, creating a sense of community and collaboration within our company.
We also believe in fair compensation for our employees and ensure that our pay rates are competitive within the industry. We are committed to providing our employees with a healthy work-life balance, which includes fair working hours and adequate time off.
At A-LEAF, we understand that our employees' satisfaction is essential to the success of our business, and we strive to create a supportive and positive work environment where everyone can thrive.
What sets A-LEAF apart
At A-LEAF, we pride ourselves not only on our deep industry expertise but also on the way we treat our specialists. We understand that they are the backbone of our business and are committed to ensuring their satisfaction.
We work with simple, transparent contracts, and we take care of our specialists like colleagues, not just another number. We understand the importance of internal networking and host events to facilitate this within the company. We treat our specialists fairly and offer competitive pay to show them that they are valued.
---
Discover how A-LEAF prioritizes fairness in our approach to recruitment. Click here to learn more about our commitment to treating candidates and clients with transparency and respect.
---
Our understanding of the industry enables us to quickly identify and recruit the best talent from our extensive network of industry professionals. We take pride in our ability to find the right candidates for each project efficiently and effectively, without compromising on quality. Our stringent screening and vetting process ensures that we present only the most qualified and competent candidates to our clients.
With a strong focus on the wind and renewables industry, we have an established track record of providing exceptional Management, QA, QC, and HSE specialists to our clients. Our reputation for excellence in the Q & HSE services sector in the Odense and Esbjerg Port areas of Denmark is widely recognized.
Our clients have come to rely on our industry knowledge and ability to quickly and efficiently provide them with the best specialists for their projects. Contact us today to learn more about how we can assist with your project needs while also prioritizing the satisfaction of our specialists.
Contact us today to learn more about how we can assist with your project needs.